The Colors of Maca: How the different phenotypes of Maca express with different colors, DNA, analytical profiles and naturally different physiological effects in the body.
By Deanna Minich, MS, PhD, CNS, IFM-C
Phytonutrients are naturally-occurring plant-based compounds that protect the plant from harsh and potentially damaging environmental conditions such as ultraviolet radiation, pests or pollution. When consumed in the diet, these same phytonutrients, or their secondary metabolites, pass on their protective benefits for nearly every biological system in the human body. In addition to their protective effects for the plant and for humans, these phytonutrients are also responsible for giving fruits and vegetables their distinctive and unique colors. These color categories and corresponding functions are described in a recent review article.
This connection to phytonutrients and color appears to be no better reflected than in the herb Maca (Lepidium meyennii, Lepidium peruvianum), a nourishing tuber-like vegetable that is typically found at high-altitude in the Andes mountains of Peru and is used for its medicinal properties in herbal and functional medicine. Recent research into the different colors, DNA, and phytonutrients of maca has given us insights into how this herb can have therapeutic benefits in so many different areas of health.
Studies on different types of maca have shown to be beneficial for conditions as far ranging as fertility in both men and women, to increasing endurance, enhance sexual function, improve memory deficits, improve depression symptoms, relieve menopausal symptoms, prostate health and in some unique concentrated formulas has been seen to modulate hormones in women, impacting cholesterol and even bone health.
Phytonutrients in Maca 1, 2, 3, 4, 5, 6, 11,12, 18, 19, 20, 21
Maca is naturally rich with vitamin C, vitamin A, vitamin B2, vitamin B6, niacin, iron, zinc, iodine, calcium, copper, magnesium, and potassium. The various phytonutrient constituents of maca include anthocyanins, glucosinolates, isothiocyanates, polyphenolics (i.e. epigallocatechin [EGCG]), flavonoids, lignans, amino acids, fatty acids, and polyunsaturated fatty acids. The phytonutrient makeup of each maca phenotype is significantly different, which translates to distinctly different physiological effects. Maca also contains plant sterols that have been shown to potentially play a part in hormone levels in the body.
Different Phytonutrient Profiles of Maca Phenotypes 12,18, 19, 20, 21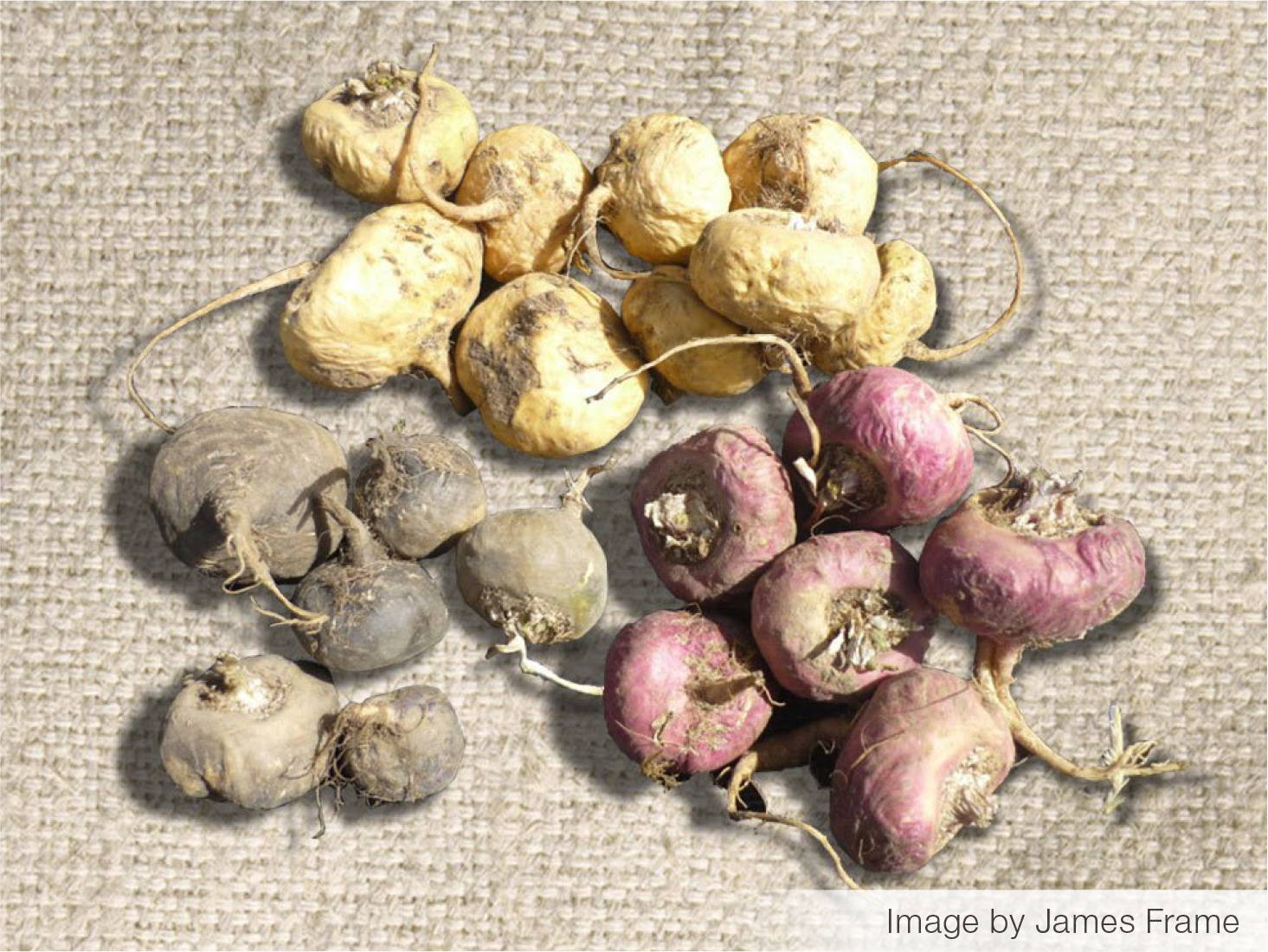 There are 13 different maca phenotypes, that can be different colors from purple, to red, beige or off white, yellow, and black. Over the last 15 years there has been debate on whether the differences between maca phenotypes are significant enough to have different physiological effects within the body.
New research by Harnly, Gafner, Meissner et al (2020) has verified previous research that there are, in fact, statistically significant differences between phytonutrient metabolite profiles as well as DNA profile differences of the various maca phenotypes. In a recent study by scientists from the US Department of Agriculture (USDA), the American Botanical Council, and leading herbal companies involved in the cultivation of maca such as Symphony Natural Health and Gaia, thirty-nine commercial maca supplements from 11 different companies, and 31 unprocessed maca tubers grown in Peru and China were sampled. Chinese maca is grown and harvested using different methods than the native Peruvian maca. The different harvesting methods could explain the discrepancies in the shape and phytonutrient analysis, however, differences in phytonutrient analysis were also exhibited within phenotypes grown in different regions of Peru. Interestingly, red maca was only found in the harvested samples in Peru, none were found in the harvested samples from China. However more recent research by Meissner et al (2020) has shown that there are a few regions in China where red maca is now being able to be grown, although in smaller quantities and variable quality as compared to Peru.

Using next-generation DNA sequencing, all of the samples were genetically confirmed as L. meyenii species (within 99.9%). With different Maca phenotypes separated by only 0.1%, the same percentage difference a between human beings. However, much like humans, where that 0.1% can be responsible for differences in hair, eye and skin color, height, and inherited propensities to certain diseases, the variables between phenotypes in maca need further research, especially in conjunction with their epigenetic expression based on the location and environment in which they are grown. As an aside, it has been observed that specific colors of maca do not grow from seeds sourced from that same color, rather the ratio of colors that grow is impacted by location and environment (meaning, for example, that seeds from black maca do not result in just black maca, but rather a spectrum of the different colors of maca, however, as noted this doesn't always result in every color, as noted in China with red maca).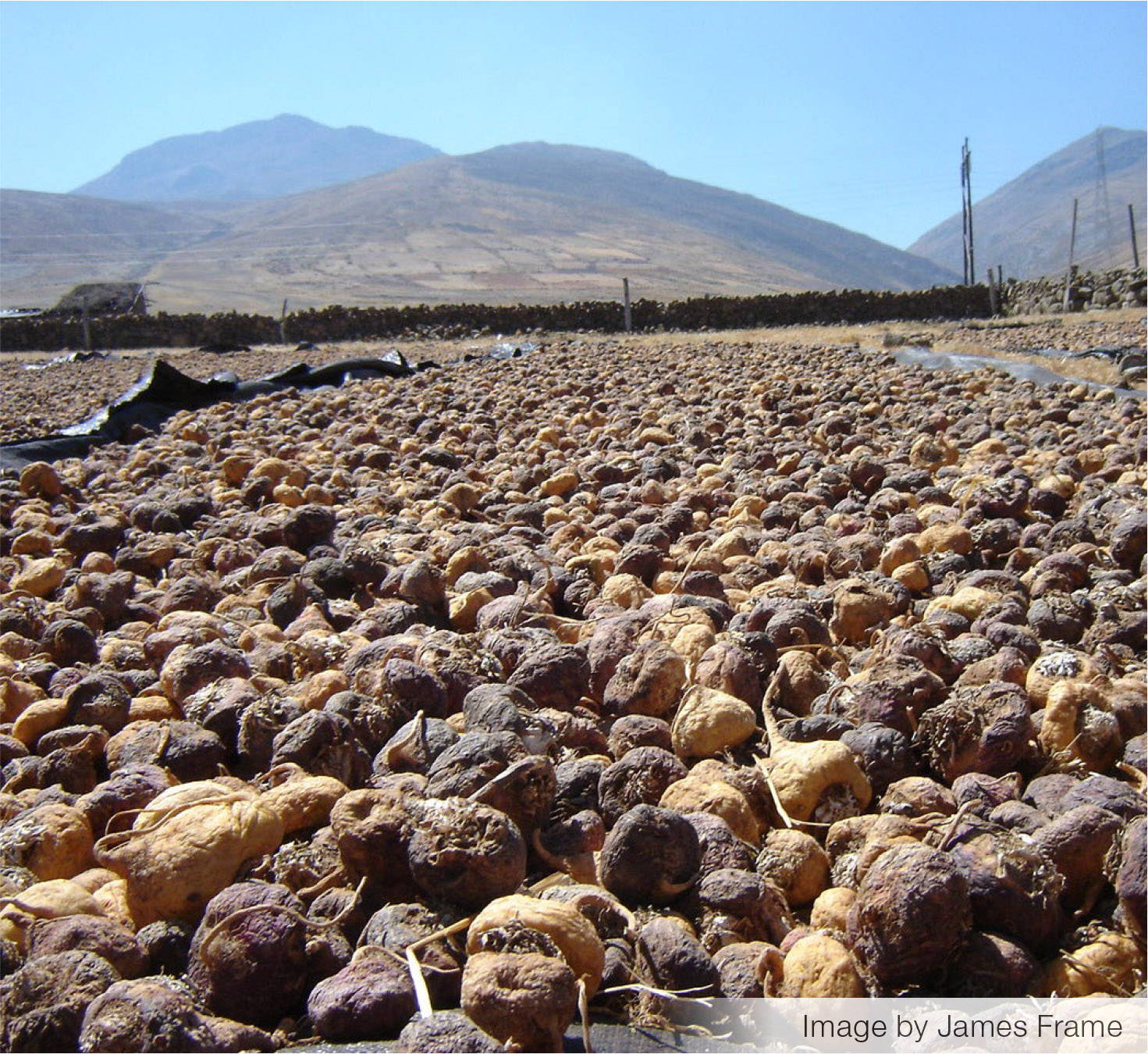 Furthermore, when analyzed for full metabolic profiles, the different maca samples exhibited statistically significant different analytical profiles with respect to the phenotypical color and country of origin. Ultimately, 118 metabolites were identified using flow injection mass spectrometry (FIMS). Metabolic profile comparisons show significant differences with respect to country and color. For example, 18 metabolites were significantly different in the Chinese black maca when compared with the Peruvian black maca. Twenty-two metabolites were markedly different in the Chinese yellow maca when compared with the Peruvian yellow maca. Twenty metabolites were different between Peruvian black maca and Peruvian red maca. Lastly, seventeen metabolites were identified as statistically different between the Chinese black maca and the Chinese yellow maca. Glucosinolates, amino acids, saccharides, and polyunsaturated fatty acids were categorically identified as differentiators in all of the comparisons ran.
Metabolites 4, 5, 6, 8,10, 11,12, 15, 16, 17, 18, 19, 20, 21, 23, 24
Glucosinolates are one of the key metabolites considered to be responsible for the therapeutic and medicinal properties associated with Peruvian maca. Glucosinolates and their subsequent isothiocyanates have been studied for reducing cancer risk, heart disease, and other chronic diseases, most probably due to their effect on various metabolic detoxification enzymatic systems. Several studies have identified higher levels of glucosinolates in purple and red maca when compared to black and yellow. Altitude appears to affect the glucosinolate levels in maca. When analyzed, the red and purple maca phenotypes harvested at higher altitudes had significantly higher glucosinolates when compared to those harvested at lower altitudes.
In addition to high glucosinolate levels, red maca has been reported to have the highest amounts of benzyl glucosinolate, which have been attributed to specific benefits for prostate health. Red maca has also been reported to contain high amounts of gamma-aminobutyric acid (GABA), possibly explaining red maca's effects on the brain and neurological health.
Black maca harvested at higher altitude levels in the Harnly, Gafner, Meissner et al (2020) study had a significantly lower amount of glucosinolates when compared to black maca harvested at a lower altitude. However, that is contrary to much of the other published literature, which shows that maca cultivated at higher elevations almost unanimously has higher glucosinolate levels. Black maca has been shown to have specific health benefits for male virility, which are likely explained by its high levels of macamides (a type of fatty acid), phenolics, antioxidants, polyphenols (such as quercetin), and essential amino acids (e.g. arginine). Black maca also has a high antioxidant value (ORAC [oxygen radical absorbance capacity] 17,268 umol TE/100g), equating to nearly four times the antioxidant value of raw blueberries.
Yellow maca, regardless of the harvested region, consistently had the lowest glucosinolate levels. Yellow maca, however, has been shown to have higher levels of sitosterol, prostaglandins, and esters which may explain its effect on women's reproductive and menopausal health.
Natural Expression of Colors
In the Rainbow Diet, I explain how the specific colors of fruits and vegetables translate to specific health systems and benefits. Maca is a terrific representation of how naturally expressed colors relate to different physiological effects.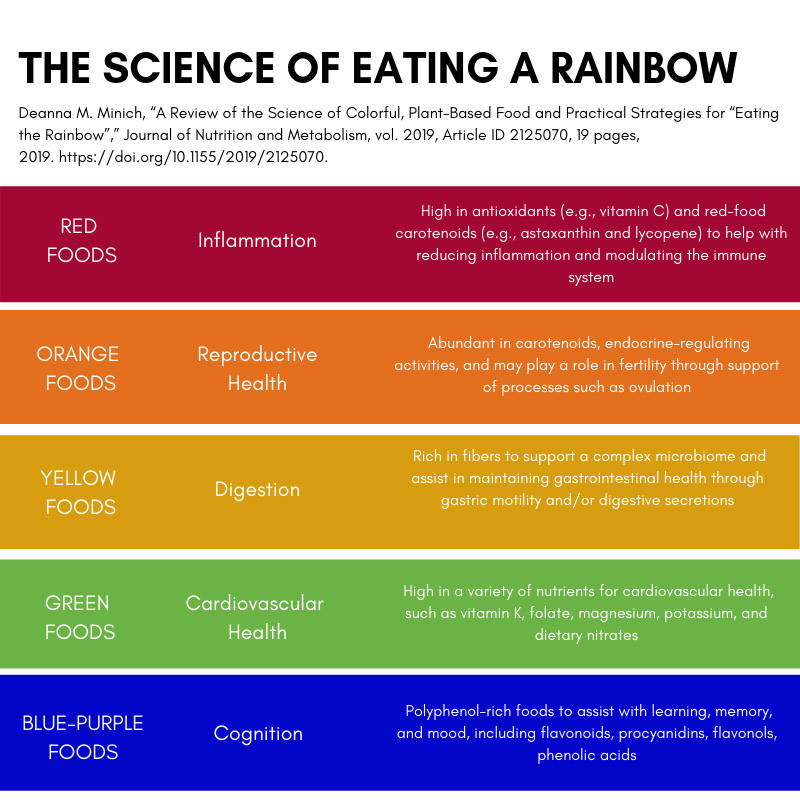 In nature, purple and blue represent cellular communication and neurological health. Purple and blue vegetables and fruits contain powerful antioxidants like resveratrol, proanthocyanins, and phenolics.
Purple 12, 15, 20, 21, 26
Purple maca, like black maca, contains high amounts of antioxidants. In clinical trials, oral administration of aqueous purple maca increased SOD and CAT activity of red blood cells and in the liver. Also, oral administration of the purple maca significantly increased glutathione plasma levels, whereas oral administration with the yellow and black maca did not impact glutathione levels. The study reported that oral administration of purple maca had superior antioxidant potency for indications in diabetes mellitus.
Black fruit and vegetables like blackberries, black currants, eggplant, black plums, and black grapes are on the color spectrum next to purple. Interestingly, they have been attributed to higher phenolic and anthocyanin levels than both purple and blue fruit and vegetables. Similarly a recent study on black maca showed that its ORAC value surpasses some "blue" and "purple" fruits and vegetables such as blueberries, plums and purple potatoes.
Black Maca 11,15,16, 17, 27, 28, 29, 30, 34, 35, 36
Black maca has been shown in animal and human clinical tries to improve mood, energy levels, improve brain function, lower blood glucose levels, improve sperm motility, and sperm production. Black maca has been shown in animal models to have positive effects on sperm production and sperm motility, whereas yellow and red maca had negligible effects. Black maca has also had significant effects on memory recall and cognitive speed.
In humans, black maca has been shown to significantly improve mood, energy, and overall health status when compared to placebo. Black maca reduced hemoglobin levels in individuals living at high altitudes with abnormally high hemoglobin levels. Also, black maca has been shown to reduce blood glucose levels.
Black maca contains the highest amount of total macamides when compared with the other maca phenotypes. The cognitive benefits of black maca have been attributed to the level of antioxidants. Other studies suggest that black maca can potentiate neurotransmitter activity in the brain.
The color Red in nature represents cellular protection, anti-inflammatory properties, immune health, adrenal health, and prostate health. Red vegetables and fruits contain lycopene, ellagic acid, quercetin, and hesperidin.
Red Maca 12,15,17, 20, 21, 24, 25
Red maca has been shown to effectively reduce prostate size, increase energy, improve mood, increase bone strength and reduce symptoms related to pre-menstrual syndrome. Red maca has been shown to have positive modulation effects on estrogen and progesterone levels while not increasing testosterone, such as with polycystic ovarian syndrome (PCOS).
Red maca's effects on prostate size may be due to the activity of glucosinolates on androgen receptors, while not affecting serum testosterone. Interestingly, studies have shown that red maca is the only phenotype to have the statistically significant advantages over other phenotypes to help reduce the size of prostates in patients with prostatic hyperplasia. In fact, patient reports on the use of other singular phenotypes exclusively (not red) have indicated that one could actually make it worse.
The bright colors of orange and yellow represent cellular communication, cardiovascular health, healthy cholesterol, healthy blood pressure, alkaline balance, and eye health. Yellow vegetables and fruits are rich in beta carotenes, lutein, and zeaxanthin. Interestingly much of this correlation between color and health impact has been reflected in the research and literature on maca.
Yellow 12, 15, 20, 21, 22, 30, 37
Yellow maca has been associated with increased fertility in women, improvement of premenstrual syndrome symptoms, and significant cellular protection from ultraviolet radiation. Oral administration with aqueous yellow maca was associated with increases in female fertility, uterine size, and litter size and litter weight in rats. Treatment with the aqueous yellow maca extract also increased uterine weight in ovariectomized animals. Yellow maca has additional sterols other than phytoestrogen sitosterol, which has been shown to positively affect progestin levels.
Meta-analysis of Maca Phenotypes in Women's Health 1, 2, 3, 4, 11, 12,13, 14,15,16, 17, 18, 19, 20, 21, 23, 24, 25, 26
Research into maca and women's health over the last 15 years has had mixed results. While many companies talk about maca's ability to support hormone balance, the majority of the literature demonstrates that most maca products have no statistically significant effects on hormones. The results of separate research conducted in Europe, Australia and Japan suggest that phenotypic-specific maca formulations, combined with bio-availability and concentrations of active ingredients play a very important role in whether a maca nutraceutical has therapeutic efficacy and determine whether a maca supplement can have a statistically significant effect on hormones in women. To date, only two concentrated proprietary maca phenotype combinations of maca have been shown to have a statistically significant effect on hormones. One out of Japan demonstrated an impact on estrogen only in perimenopausal women, while another out of Europe and Australia (Maca-GO®) demonstrated impact on nearly all hormones in peri- and postmenopausal women, as well as clinical evidence in women in their reproductive years. In addition, phenotype and quality played a part in determining if additional health benefits were experienced such as lower blood pressure, lipids, body weight, menopausal symptoms, sexual and reproductive health, depression, mood, bone density and increase iron and calcium levels.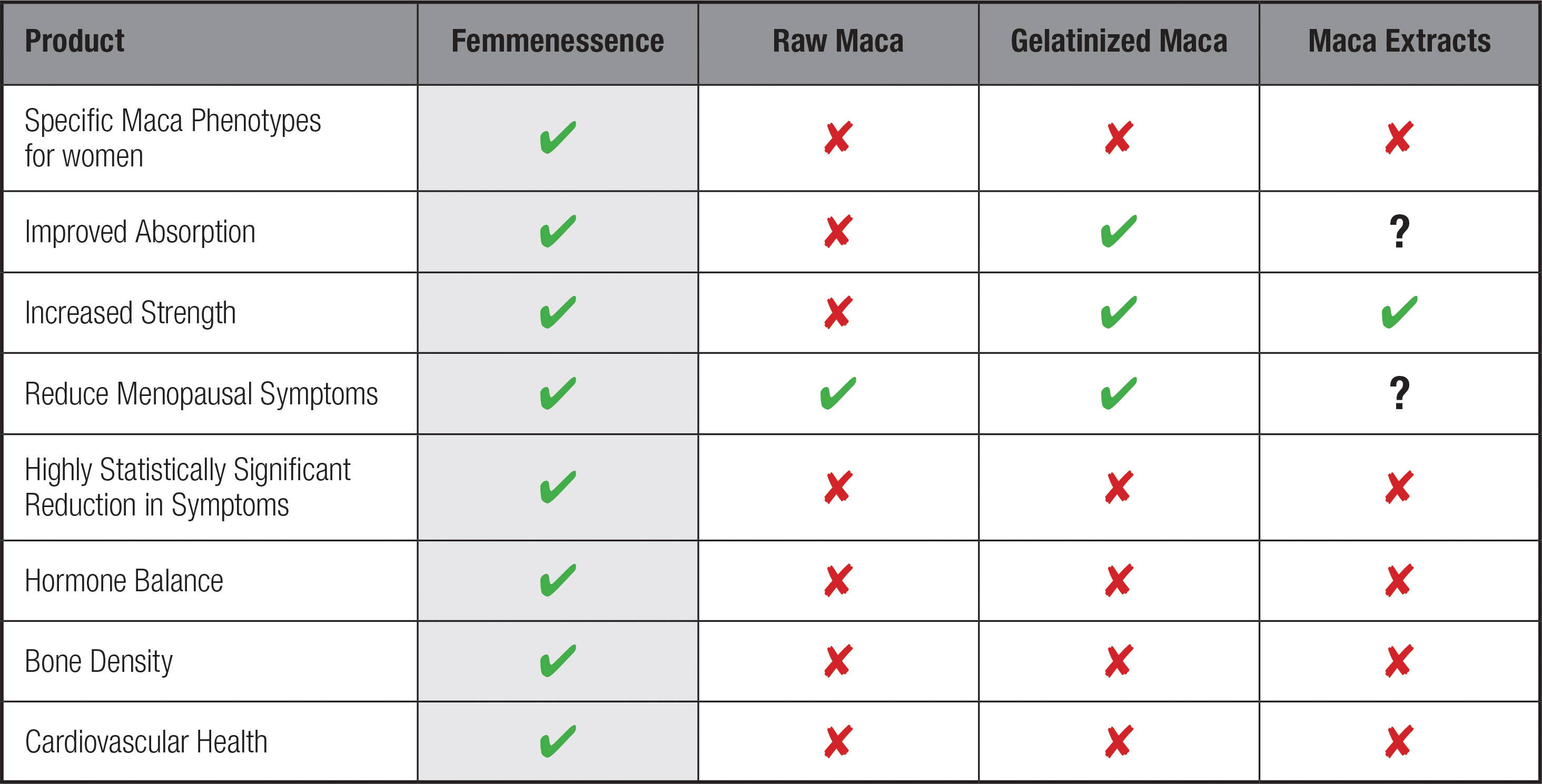 The Nourishing Effects of Maca 1, 4, 5, 6, 8, 9, 10, 11, 18, 19, 20, 21, 32, 34, 35, 36, 37
As a dietary supplement and natural product, maca is widely misunderstood. Most dietary supplements or powders include a random combination of all the different phenotypes mixed together in the natural ratios of the farm from which it was harvested. They also often simply refer to maca's energy benefit. However, as the research points out, with so many different physiological effects related to phenotype, growing location and concentration, products can vary widely from lot to lot, batch to batch, and product to product.
With one of my clinical focuses being on the Hypothalamus Pituitary Adrenal Axis or more correctly the entire PHPTPHTPOTA Axis (Pineal Hypothalamus Pituitary Thyroid Parathyroid Heart Thymus Pancreas Ovaries/Testes Adrenal Axis), and supporting the body by addressing the root cause, especially through the endocrine system, I have naturally taken a keen interest in maca and particularly the research around colors. What I've observed is that there is a "color code" to nature's intelligence. These individual colors of maca may be signaling us to their individual functionality. As a result, this has led me to be very particular with what maca products I use, focusing on companies that have a comprehensive understanding of the different phenotypes, and more importantly, the clinical research demonstrating the statistically significant effects on supporting the body's hormones and foundational health. To read a white paper on this clinical research please click here.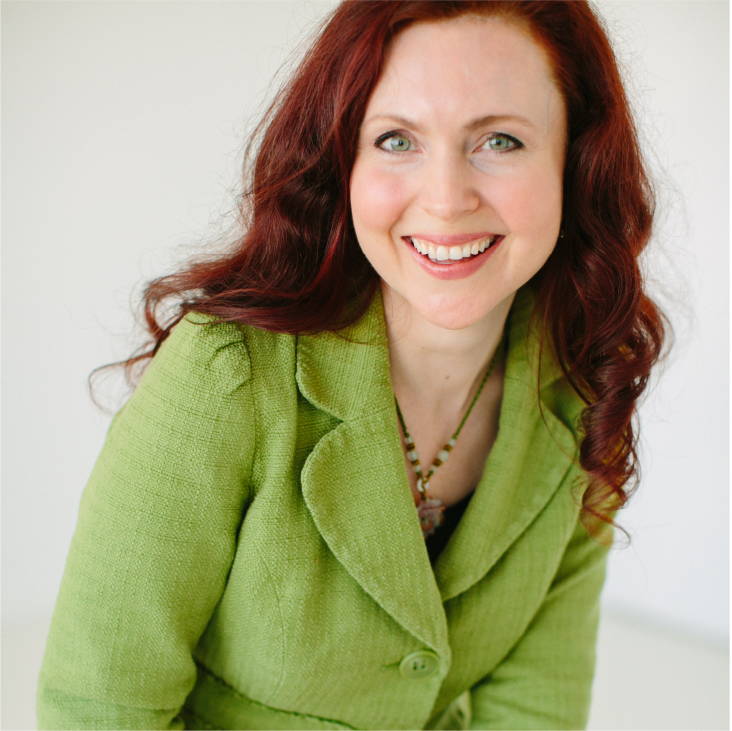 About the Author: Dr. Deanna Minich is an internationally-recognized teacher, author, scientist, speaker, and artist. She has more than 20 years of diverse, well-rounded experience in the fields of nutrition and functional medicine, including clinical practice, research, product formulation, writing, and education. Her doctoral (Ph.D.) research focused on essential fatty acid absorption and metabolism, and her Master of Science degree (M.S.) allowed her to explore the health benefits of the colorful, plant-based carotenoids. She has authored six books on health and wellness and over forty scientific publications. Currently, she is Faculty for the Institute for Functional Medicine and the University of Western States. She has developed an online certification program for health professionals so that they can apply the color-coded 7 Systems of Full-Spectrum Health in their practice. Her lectures are heard by patients and practitioners throughout the world. Dr. Minich's passion is teaching a whole-self approach to nourishment and bridging the gaps between science, spirituality, and art in medicine.