Healthy Lifestyle Tips for Summer Travel
By Deanna Minich, PhD
Reviewed by Kim Ross, DCN
July 10, 2023
Whether taking an extended vacation or getting away for a long weekend this summer, there are several recommendations you can provide to your clients so they can feel their best.
Hydration
The warmer temperature requires increased and regular consumption of fluids. This requirement is increased if your client also engages in outdoor physical activity during their vacation. The risk of heat-related symptoms, which may include edema, heat rash, muscle cramps, dizziness or light-headedness, weakness, headache, excessive sweating, and decreased urine output, can be prevented to some extent by proper hydration.1 It is important to note that the ability to acclimatize to the heat is also dependent on health factors such as being overweight/obese, smoking, physically inactive, drinking alcohol, air travel within 24 hours, and lack of sleep.1
Consider these tips to help maintain adequate hydration:
Aim for a minimum of 64 ounces of water each day. Recommendations for fluid intake (from water and foods) vary and include consuming half your body weight in ounces (i.e., a person weighing150 lbs. would consume 75 ounces) or up to 2.7 liters for women and 3.7 liters for men.

2

Drink water before feeling thirsty.

Pack high-water content fruits like pears, apples, and oranges to get both fluid and phytonutrients, which can be important with the stresses of travel.

Bring a dedicated refillable water bottle made of stainless steel to avoid unnecessary waste, exposure to plastic, and cost.

Consume 1 cup of water every 15-20 minutes when you are outside in the heat.

3

Fill water bottles at purified water stations commonly found at airports, hotels, and even fitness centers at hotels.

Avoid fruit juices, soda, and energy drinks.

Replenish minerals when you rehydrate. Pack a small container of

Original Himalayan Crystal Salt®

to add to purified water, which lacks essential minerals. Himalayan Crystal Salt

®

contains 84 trace minerals.
TIP: Check the color of urine to help determine hydration needs.4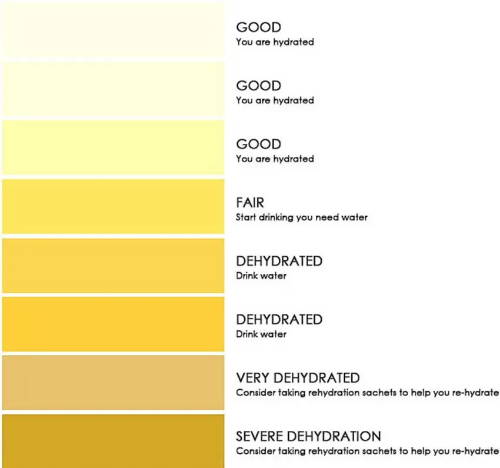 Image credit: Mahoney E, Kun J, Smieja M, Fang Q. Review—Point-of-Care Urinalysis with Emerging Sensing and Imaging Technologies. J Electrochem Soc. 2020;167(3). doi:10.1149/2.0182003jes. https://creativecommons.org/licenses/by/4.0/.


Food
Dietary intake may change while traveling or when your client reaches their destination. Food options may be limited, they may eat out more or indulge in some treats, or may have limitations in preparing meals.
Consider these tips to maximize healthy food choices:
Pack a cooler or insulated grocery bag with fresh fruit and vegetables for snacks. Vegetables like carrots, broccoli, cauliflower, peppers, cucumbers, radishes, celery, tomatoes, and snap peas are easy to cut up in advance and will travel well. Apples, pears, oranges, tangerines, cherries, and berries are easily packed and stored fruits. (Place cherries and berries in a container to avoid them being crushed.)

Stop by the local farmers' market or farmers' stands to get fresh fruit or vegetables.

Pack fruit and high-quality protein sources like mixed nuts and sardines.

Bring a protein powder and shaker cup for easy breakfasts on the go.

Ensure dietary fiber intake, together with adequate hydration to keep bowels moving.

Bring (non-toxic) tea bags and coffee sachets (if they drink coffee) along with their own reusable mug.

Pack supplements in small travel bags or containers so they don't miss out on this nutritional support.
Easy Elimination
Travel can bring about changes in bowel habits. Traveler's diarrhea is experienced by 10-40% of all travelers, which includes loose stools and abdominal cramping that most often occurs due to changes in dietary habits or consuming contaminated food or water, especially when traveling abroad.5 Traveler's constipation, occurring in almost 40% of individuals, may occur due to a lower fiber intake, changes in hydration, jet lag, or concerns about using a bathroom outside of the home.6 In addition to the hydration and food tips above, you can also consider the following recommendations for your client:
Take

pH QuintessencePRO

to get alkalizing greens for healthy detoxification. The imbalance in acidic and alkaline foods can affect detoxification and elimination processes.

7

 

A side benefit of using pH Quintessence is healthy bowel movements when taken at night before bedtime. To maintain bowel motility while traveling (and at home), take three capsules of pH QuintessencePRO™ before bedtime. Otherwise, the standard dosing recommendation to support alkalization and detoxification is one capsule in the morning and two capsules in the evening, 30 minutes before a meal, as indicated on the product packaging.

Take a probiotic supplement or consume probiotic-rich foods, such as unsweetened yogurt, miso, sauerkraut, and tempeh, to aid in normalizing gut microbiota.

The Probiotics Institute

provides recommendations for specific strains to consider for travelers' diarrhea and constipation.
Note - If diarrhea or constipation becomes chronic, encourage your client to check in with their primary care doctor (if this is not you) to rule out any possible infectious pathogens, especially after traveling abroad.
Sleep
Sleep patterns may change depending on factors such as time zone changes and activities planned for the day. Here are some tips to optimize sleep while traveling.
Ask clients to adhere (as much as possible) to the time zone they are in, waking in the morning to expose the eyes to bright morning light and going to bed in the evening to help reestablish a healthy circadian rhythm.

Stay active during the journey by stretching and exercising when possible. After travel, exercise to maintain alertness.

Refrain from eating too close to bedtime, with the last meal 2-3 hours before the scheduled bedtime.

Set the room temperature to a comfortable level for sleep: not too cold, not too hot; windows may need to be opened or thermostats altered.

Block all external light (from outside) and internal light (nightlights, alarm clocks, electric devices) sources.

Wear an eye mask when sleeping if the room is too light and cannot be modified.

Use blue-light blocking glasses as the evening sets in and curtail the use of artificially-lit devices or technology like the television.

Dim lights before bedtime.

Pack

HerbatoninPRO

™ to help re-establish circadian rhythm. While there are a variety of guidelines on how to use melatonin for jetlag, one recommendation is to take 0.3 mg for every time zone traveled from your home time zone. For example, if your client travels from Los Angeles to New York, that would be three time zones, which would be three capsules of the 0.3 mg HerbatoninPRO™. Higher amounts, like 3-6 mg of HerbatoninPRO™, may be needed in some cases about an hour before bedtime to initiate sleep in the local time zone. Some clinicians encourage modifying sleep time gradually a few days before travel to better adjust at the destination.
For more specifics and other guidelines that can be personalized, download the Jet Lag-Clinician Guidelines.
Stress Management 
While this time away is important for a reset from one's daily life and to potentially decrease everyday stressors, travel can also create its own stress depending on the circumstances.
Here are some ideas to consider to ensure their trip is low-stress:
Plan a travel itinerary and share it with everyone traveling together and those who will need to know (e.g., housesitters, pet sitters, neighbors, family, friends). It can include any or all of the following, depending on who it is intended for: the time of departure/arrival, flight details, plans for stopping for meals along the way, reservations for meals eaten out, grocery lists, and menu plans for meals eaten in.

Be flexible. Anticipate delays or slow-downs in your travel. When delays occur, use deep breathing exercises to help reduce the body's stress response.

Play games, sing songs, read a book (non-work related), try a new activity—the options for fun are endless.

Disconnect from electronics. Place email on "out of office" and the phone on "do not disturb" to enjoy the time off with family, friends, and yourself.
These statements have not been evaluated by the FDA. These products are not intended to diagnose, treat, cure, or prevent any disease.
References
1.Westwood CS, Fallowfield JL, Delves SK, Nunns M, Ogden HB, Layden JD. Individual risk factors associated with exertional heat illness: A systematic review. Exp Physiol. 2021;106(1). doi:10.1113/EP088458
2. Report Sets Dietary Intake Levels for Water, Salt, and Potassium To Maintain Health and Reduce Chronic Disease Risk. U.S. National Academies of Sciences, Engineering, and Medicine. Published February 11, 2004. Accessed July 4, 2023. https://www.nationalacademies.org/news/2004/02/report-sets-dietary-intake-levels-for-water-salt-and-potassium-to-maintain-health-and-reduce-chronic-disease-risk
3. Jacklitsch B. Keeping Workers Hydrated and Cool Despite the Heat. Center for Disease Control (CDC). Published August 12, 2011. Accessed July 4, 2023. https://blogs.cdc.gov/niosh-science-blog/2011/08/12/heat-2/
4. Mahoney E, Kun J, Smieja M, Fang Q. Review—Point-of-Care Urinalysis with Emerging Sensing and Imaging Technologies. J Electrochem Soc. 2020;167(3). doi:10.1149/2.0182003jes
5. Leung AKC, Leung AAM, Wong AHC, Hon KL. Travelers' Diarrhea: A Clinical Review. Recent Pat Inflamm Allergy Drug Discov. 2019;13(1):38-48. doi:10.2174/1872213X13666190514105054
6. Mearin F, Zarate N, Sardi JA, Moreno-Osset E, Salis G. Traveler's constipation. Am J Gastroenterol. 2003;98(2):507-509. doi:10.1111/j.1572-0241.2003.07249.x
7. Osuna-Padilla IA, Leal-Escobar G, Garza-García CA, Rodríguez-Castellanos FE. Dietary acid load: Mechanisms and evidence of its health repercussions. Nefrologia. 2019;39(4). doi:10.1016/j.nefroe.2019.08.001