The Hormonal Pauses of Life
By Deanna Minich, PhD
Reviewed by Kim Ross, DCN
July 10, 2023
In some ways, having a "pause" in life through our biochemistry is a helpful way to take stock of our lives through contemplation and reflection psychologically. However, for some people, they can go into an early "pause" hormonally, leaving them without the energy and vitality they need in their later years to do the things they'd like to do.
Here are some of the premature pauses of aging and Symphony Natural Health's solutions to balance them:
Adrenopause: Many patients may be unaware that they are experiencing this pause, though they will easily relate to the most common concern, which is low energy levels. This can be an early sign of declining adrenal function. Adrenopause specifically relates to the reduced production of adrenal androgens, dehydroepiandrosterone (DHEA) and DHEA-S, and is noted as a sign of general aging (1,2). It is documented that the production of DHEA begins to decline as early as age 30 years, with women experiencing lower levels than their male counterparts (2). DHEA is important for vitality by (1):
serving as the source of active estrogen in postmenopausal women

serving as the precursor for testosterone

its role in brain aging through neurotrophic effects
This anti-aging steroid stimulates the immune systems and is known for its anti-diabetic, anti-atherosclerotic, anti-dementia, anti-obesity, and anti-osteoporosis effects (3). Low DHEA levels have been related to an increased risk of stroke, lower bone mass, dementia, erectile dysfunction, low self-esteem, and depression (1).
For those living in higher altitudes in the U.S., a study in 2002, based in Lima, Peru (where Symphony Natural Health's Lepidium peruvianum is farmed and harvested), found that women living at higher altitudes (4,340 meters) experienced adrenopause earlier than those living at sea level. The DHEA serum concentrations were only 50% the value compared to those living at sea level (2).
Symphony Natural Health's FemmenessencePRO™ suite and RevolutionPRO™ support adrenal health through the hypothalamus-pituitary-adrenal (HPA) axis. Additionally, sole provides sodium and other trace minerals that are required for adrenal function.  
Peri-/Post-menopause: Of course, most women are well-acquainted with these terms to define the decline of estrogen and progesterone in life, either naturally or induced through surgical means. Up to 85% of women in peri- and post-menopause experience a variety of symptoms, ranging from hot flashes and night sweats to sleep disturbances, mood disturbances, loss of libido, weight gain, and vaginal dryness (4).
No dietary supplement had ever shown in published clinical trials statistically significant improvements in hormone levels in peri- and post-menopausal women. However, that changed in 2005 with the publication of clinical research into a novel ingredient called Maca-GO® commercially known as FemmenessencePRO™ (5–8).
Instead of introducing hormones into the body in various amounts, through one or more delivery systems, or introducing a drug to reduce a hormone's production, FemmenessencePRO™ favorably modulates the hypothalamus-pituitary-thyroid-adrenal-ovarian (HPTAO) axis to support the body's own hormone production. This process can include increasing and decreasing the production of different hormones based on individualized needs.
Andropause: Andropause refers to the decline of testosterone that comes with the aging process. This should not be confused with hypogonadism, which is a testosterone deficiency that can occur in men of all ages. Further, testosterone declines are experienced by both men and women, though this pause is most commonly referenced when talking about male physiology. The gradual decline begins in the 20s and 30s in men, so that by the time a man reaches his 80s, he has 40-50% of the testosterone he had as a healthy adult (9).
Patients may experience symptoms such as low libido, difficulty obtaining or maintaining erection, loss of muscle mass, increased body fat, changes in mood, and trouble concentrating (10)
Andropause isn't only experienced by men, however. Women also experience andropause, and it's thought that the effects might be as dramatic, if not more so, considering levels are about 10 times lower than men. So, even slight decreases could have a significant impact on bone, muscle, and metabolism. RevolutionPRO™ can balance healthy androgens in men, and, in some cases, it's been used for women (after first using Femmenessence or in combination).
Somatopause: Somatotropin (also known as Growth Hormone, or GH) is a peptide hormone that is made and secreted by the anterior pituitary gland. Produced in a pulsatile manner throughout the day, GH will have small peaks after a meal, with greater peaks during sleep. With advanced age, there can be decreases in GH ("somatopause") that lead to changes in metabolic health, such as increasing risk for obesity, cardiovascular disease, and metabolic syndrome, along with greater belly fat, less lean body mass and strength, and reduced bone mineral density. In fact, early research noted that the production of GH decreased 14% per decade of life (11).
While the treatment of growth hormone could be a possible "fountain of youth" for the elderly, though the dosing, safety and efficacy remains controversial. Research suggests supporting testosterone and estrogen can be a therapeutic option for somatopause,(11) making FemmenessencePRO™ and RevolutionPRO™ a targeted option.
Melatonipause: This term is not in the scientific literature, but it was coined in a podcast with Symphony Natural Health's Chief Science Officer, Dr. Deanna Minich. Melatonipause refers to the lowered endogenous production of melatonin that adults experience, particularly in the mid-50s and later decades. As discussed in our Melatonin Clinical Webinar Series, low levels of melatonin may have implications for increasing rates of chronic disease with age.
HerbatoninPRO 0.3 mg is plant melatonin that can be used for a variety of clinical conditions due to its anti-inflammatory, antioxidant, and mitochondrial regulator properties, as well as being well-known as a hormone for sleep.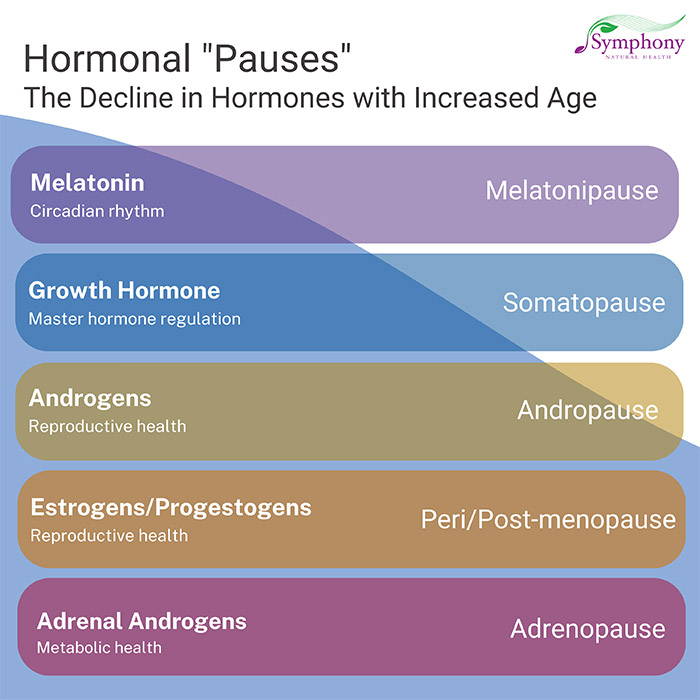 Image 1: Hormonal pauses throughout the lifespan.

Conclusion
While we cannot avoid the pauses of life, we can help support our patients through these transitionary times of life. Symphony Natural Health's focused suite of products can assist in one or more of the pauses, along with a plethora of additional dietary and lifestyle factors that can be considered.
These statements have not been evaluated by the FDA. These products are not intended to diagnose, treat, cure, or prevent any disease.
References
1. Papierska L. Adrenopause - Does it really exist? Vol. 16, Przeglad Menopauzalny. 2017.
2. Gonzales GF, Góñez C, Villena A. Adrenopause or decline of serum adrenal androgens with age in women living at sea level or at high altitude. Vol. 173, Journal of Endocrinology. 2002.
3. Nawata H, Yanase T, Goto K, Okabe T, Nomura M, Ashida K, et al. Adrenopause. Horm Res Paediatr. 2004;62(Suppl. 3):110–4.
4. Johnson A, Roberts L, Elkins G. Complementary and Alternative Medicine for Menopause. J Evid Based Integr Med. 2019;24.
5. Meissner HO, Reich-Bilinska H, Mscisz A, Kedzia B. Therapeutic Effects of Pre-Gelatinized Maca (Lepidium Peruvianum Chacon) used as a Non-Hormonal Alternative to HRT in Perimenopausal Women - Clinical Pilot Study. Int J Biomed Sci. 2006;
6. Meissner HO, Kapczynski W, Mscisz A, Lutomski J. Use of gelatinized maca (lepidium peruvianum) in early postmenopausal women. Int J Biomed Sci. 2005;
7. Meissner, HO Mscisz, A Bilinska-Reich, H, Kapczynski, W, Mrozikiewicz, P Bobkiewicz-Kozlowska, T Kedzia, B Lowicka, A Barchia I. Hormone-Balancing Effect of Pre-Gelatinized Organic Maca (Lepidium peruvianum Chacon): (II) Physiological and Symptomatic Responses of Early-Postmenopausal Women to Standardized doses of Maca in Double Blind, Randomized, Placebo-Controlled, Multi-Centre C. Int J Biomed Sci. 2006;2(4):360–74.
8. Meissner HO, Mscisz A, Reich-Bilinska H, Mrozikiewicz P, Bobkiewicz-Kozlowska T, Kedzia B, et al. Hormone-Balancing Effect of Pre-Gelatinized Organic Maca (Lepidium peruvianum Chacon): (III) Clinical responses of early-postmenopausal women to Maca in double blind, randomized, Placebo-controlled, crossover configuration, outpatient study. Int J Biomed Sci. 2006;
9. Jones H. Testosterone for the aging male; current evidence and recommended practice. Clin Interv Aging. 2008 Mar;Volume 3:25–44.
10. Singh P. Andropause: Current concepts. Indian J Endocrinol Metab. 2013;17(9):621.
11. Ajdžanovic VZ, Trifunovic S, Miljic D, Šošic-Jurjevic B, Filipovic B, Miler M, et al. Somatopause, weaknesses of the therapeutic approaches and the cautious optimism based on experimental ageing studies with soy isoflavones. EXCLI J. 2018;17:279–301.